Tonight, me and my room mate Dor-Dor were able to break bread together for the first time in recent memory (although we didn't actually have any bread) and we took part in a cooperative effort in the preparation of our victuals.
It was agreed that I would cook salmon, as I had once or twice before when she had obligations in the evening that required me to dine alone, but there was some debate about the appropriate side-dish. I was rooting for egg noodles, but I didn't object much when Doris suggested mashed potatos. In addition, we also had corn. Holla!
I had just awakened from a nap, and the word "fun" was written all over my groggy face...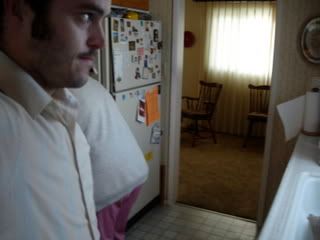 I handled the task of salmon preparation while my Grams handled the puree de papas, y mais.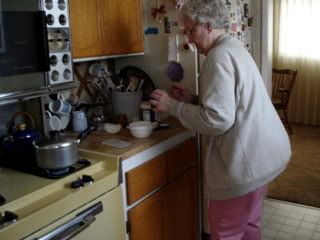 Doris took care of her entire portion of pink fish (I'm so proud of her!) while I had to save half for later.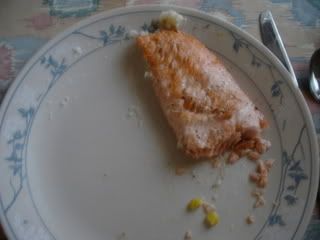 Now, with bellies full, we are bonding over our usual summertime evening ritual of watching our two favorite Dodgers play on T.V. My favorite player is Takashi "Sammy" Saito because of his diminutive stature, and ever present exuberant smile, while Grammy-Gram likes the wiley Quebecois catcher, Russell Martin. (He is so good! she often exclaims)